Half-day training for your "Job Hunting 就活 in Japan" on June 7!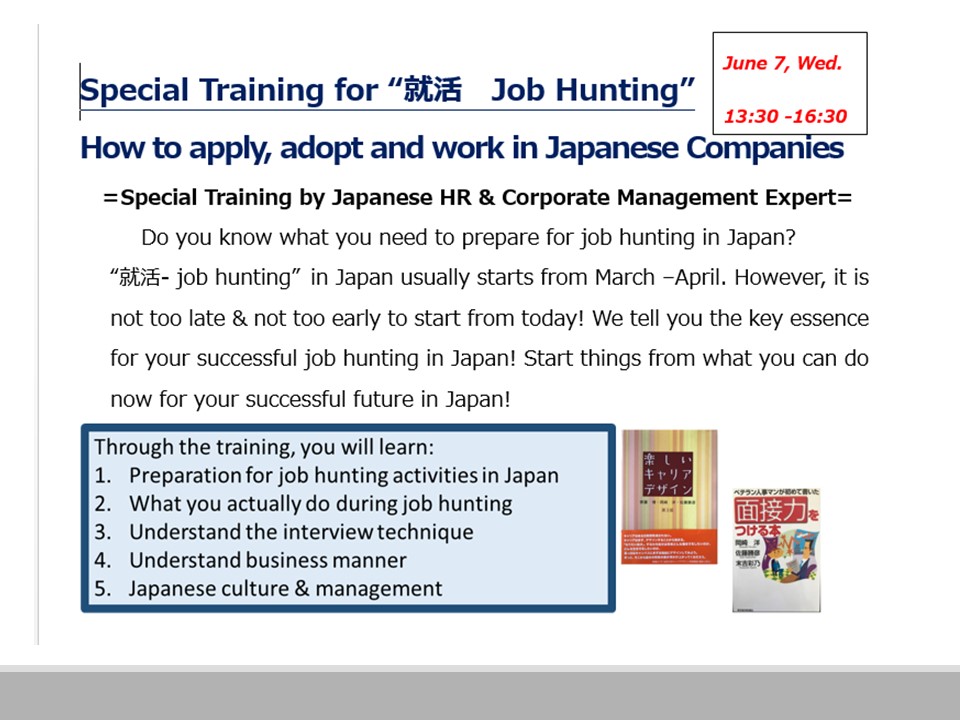 Are you ready for "Job Hunting (Shukatsu)" in Japan?
外国人向け「就活」セミナーです!
Thanks to many requests for a half day condensed training for " Job hunting 就活" in Japan, we have decided to hold a seminar on June 7, Wednesday, from 13:30 to 16:30, at Shin-edogawa kouen!
By the way, have you been to Shin-edogawa kouen? This has been called Higo-Hosokawa Garden, from Edo-era. You can enjoy Japanese garden and beautiful view all season.
Syouseikaku is the building just renewed recently and is located in this Shin-edogawa kouen. We will hold a 就活セミナー Job hunting seminar at Syouseikaku room A.
Please come and enjoy the garden and our seminar!
Date/time: June 7, 2017 13:30- 16:30
Venue: Shin-edogawa kouen, Syouseikaku Room A
1-1 Mejirodai, Bunkyo-ku, Tokyo
Special price: 5000 yen –> 3000 yen!
Again, our apologies for late notice, but we hope you can join us!!
Please reserve your seat by email: fruriverassist@gmail.com
We have only 20 open seats.